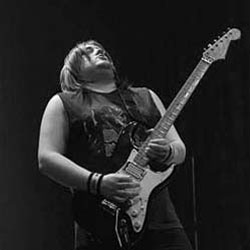 My first gigs with Dave Hurry were in Germany '07, and he was actually more playing the role of Manic Gers pretending to be Dave Murray!!
Manic was drafted in to the band about five years earlier for the occasional three guitar line-up gig as well as to fill in for the previous Adrian Swift when he was unavailable.
I joined the band in January 2007 at the same time as Simon Bradley, the original Dave Hurry, returned to the band. Simon was to be taking a well earned sabbatical for a few months in South Africa shortly afterwards, so we had a frantic search to find a replacement for the gigs he was going to miss.
Manic was the obvious choice to stand in for Simon. However, not an easy task to learn all the Dave Murray parts to 20 plus Iron Maiden songs in one week!! Our first contact was over the phone to confirm who takes which solos and harmonies, and my first impression was what an affable chap he is. He's tremendously easy to get on with and yet very forthright, he confided in me that he was quite concerned that he'd never performed with me before and this forced him somewhat out of his comfort zone. This just belies his professionalism and the high standards that he sets himself, he always wants to put in a flawless performance.
His apprehension was probably well founded, as his first impression of me was the now historic first appearance of 'Melvin', in the van on the way through France! Not the best introduction it has to be said! In spite of this the gigs went exceptionally well and it was immediately apparent what an excellent musician Manic/Hurry is. The rest of the gigs that Manic stood in for just got better and better, we gelled really quickly. So when Simon decided he was hanging up his wig for good I was delighted that Manic agreed to be the full time Dave Hurry.
One of the first things anyone will notice about Dave Hurry is what a positive person he is. He always has a smile on his face and really just wants everyone to have a good time and enjoy themselves. He has his moments of course, like anyone, but he will usually be found having a laugh, talking to someone at the bar, with his precious pint of Guinness in his hand. A word of caution though, never get into a drinking competition with him, having seen him sink ten pints of the lethal Abbot Ale without any evidence of inebriation, he is certainly a man who can hold his drink!!
I think the thing that has always impressed me most about DH is the effortlessness with which he seems to play. Dave Murray solos are not easy to master, yet he seems to pull it off every gig as if it were nothing. He's a great 'all-round' musician too, and if you're ever privy to a Hi-on Maiden soundcheck you will be regaled with a comprehensive performance of all his favourite music (and there is lots of it!).
He is also a very talented keyboard player, an attribute we would love to harness if only he could grow a couple of extra limbs and take the part of a tribute Michael Kenney. Something I wouldn't put past him as he's already put in tribute performances as Janick Gers, Adrian Smith, Dave Murray, and even one night as Bruce Dickinson!!
---
DAVE HURRY Fact file:
Date Of Birth:
27th April 1984
First Band:
The Terry Nutkins Blues Explosion. No, really!
Previous Bands:
My previous bands include Isotonic, 3 Fat Fish and hundreds of nameless collaborations at University...
Favourite Band (other than Maiden):
Dream Theater.
Favourite Maiden Album:
I'd have to go with Powerslave.
First Maiden Gig:
16th June 2000, Earls Court London - the Brave New World tour. One of my favourite gig memories ever.
Favourite Maiden Song To Play Live:
Revelations & Phantom Of The Opera.
Best Hi-on Maiden Gig Memory:
Probably Berlin in April 2007. It was my very first gig as Dave Hurry (having previously been Manic Gers and played all the Gers / Smith parts), and I was as nervous as hell. The crowd wasn't huge by any stretch of the imagination, but I sounded the part and played really well. I came off stage knowing that I'd done a really bloody good job, and that was a great feeling.
Worst Hi-on Maiden Gig Memory:
One night in Croydon, I can't remember which year. I was having all sorts of equipment trouble - my signal kept cutting out. Right in the middle of the intro to Wasted Years! I just couldn't wait to get off stage. Horrible, absolutely horrible.
Favourite Venue:
JB's, Dudley or The Pitz, Milton Keynes.
Favourite Guitar Player Other Than Those In Maiden:
It'd have to be David Gilmour of Pink Floyd, closely followed by John Petrucci of Dream Theater.
Who Would Be In Your Dream Band:
Bruce Dickinson - Vocals
David Gilmour - Guitar
Richard Barbieri - Keyboards
Dave Meros - Bass
Mike Portnoy - Drum