SLAVES TO THE POWER OF MAIDEN! - NIJMEGEN 2011
Published: February 5, 2011
After the disappointment of having to postpone our usual November trip to Holland in 2010 we are delighted to announce that we are heading back over to Nijmegen's Rockcafé Backstage on Friday May 13 and Saturday May 14 2011.
And once again we have decided to do something a little special for what we consider to be one of the best venues we play. As usual each night will feature a completely different set list, making for over 40 songs performed over the course of the weekend. And Friday night will see us roll out our first ever full live performance of Iron Maiden's iconic Powerslave album.
One of Iron Maiden's best loved albums, Powerslave is brimming over with classic Maiden tracks, such as the '84 single releases 'Aces High' and '2 Minutes to Midnight', as well as more elusive songs such as 'Flash of the Blade' and 'Back in the Village', both of which Maiden never played live. And, of course, you couldn't fail to mention the epic 'Rime of the Ancient Mariner'!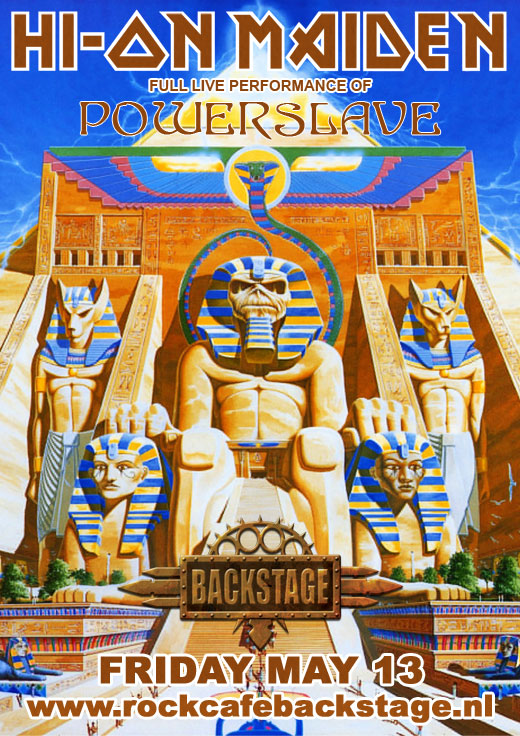 The Saturday night will be an all out Maiden tribute-fest, balls-to-the-walls with classic Maiden tracks, from 1980 right up to 2010, with a few surprises thrown in for good measure. These are definitely two shows not to miss!!
Ticket Information:
These events are scheduled for Friday May 13 and Saturday May 14. Doors open at 20:00 and tickets are priced at €8·00 for a single show or €15·00 for both nights.
Tickets go on sale April 27.
Venue Information:
Address:
Rockcafé Backstage
Bloemerstraat 131,
Nijmegen,
HOLLAND
Tel: 024 - 3226451
Email: rockcafe-backstage@chello.nl
---